A Little History
This is Katie's story. Hopefully it will inspire you to achieve greater things in your business life, and to take the chance to exceed your expectations – ultimately to find that "better you".
Katie left school at the age of 13 without any qualifications, she was a victim of bullying which caused her severe pain throughout her teenage years. Despite this she managed to overcome the pain and developed a passion for modelling and it was the only thing that kept Katie going. It got her out of the house and she was regularly meeting new people and earning a good money from a young age.
Modelling boosted her confidence and she began using the Internet to develop her marketing skills. Katie realised that at the end of the day her business was herself and on each casting or meeting she attended she knew that she had to win them over to choose her!
At the age of 18 Katie decided she wanted to open her own modelling agency and she started 'KG Model Management Ltd'.
She set up the business in her parents office and had models on the books from all over the world and a successful client base. Realising that business was booming she decided that she needed a base to meet models and have meetings and hold photoshoots. This is when KG Salon was born.
Katie found her dream premises in a small village in Bedfordshire and she soon discovered that to cover the overheads she needed to bring in more than what the agency was pulling in.
She had always had a passion for beauty and within a short space of time she introduced sun-beds and nail bars into the salon. Being in the modelling industry Katie loved the pampering and beauty side so the combination of the two together was a perfect match.
Within a few months there was such a high demand for beauty treatments that Katie knew she had to expand. This resulted in closing the model agency and turning it into a full beauty salon. It was a hard decision to make but she knew it was the right one.
The first couple of years were TOUGH! And as the salon got busier and overheads were rapidly increasing. Katie had a few employees at the time & was learning to build a team. Katie worked extensive hours in the salon with minimal sleep or a social life but her goal kept her focused.
She was living at home with her parents at the time and her father gave her £40 a week to live off as she wasn't taking a wage from the business. To say she nearly chucked the towel in is an understatement! She was even prepared to go bankrupt to have a break and lead a normal life again, but she kept going.
After studying many business books, networking, learning how social media worked alongside finding the best team for the salon. Training with the best companies combined with having the correct mindset, putting her heart and soul into the business the salon got busier and busier. Katie went onto franchising the business and launching many successful businesses.
From having £40 a week to now turning over multiple 6 figures!
From having ZERO clients to thousands.
From 1 salon to franchising the brand.
From having 1 staff member to over 20 under the KG Brand.
From having no freedom to all the freedom she wanted.
Were the tears and breakdowns worth it?… of course they were! KG is now a Multi Award winning brand with over 16 awards and published over 100 times.
Katie also went on to:
CEO of KG Professional. Beauty training academies across the UK.
Product range which is sold in over 2000 salons worldwide.
The Life Of KG Podcast – Available on all podcast apps including Apple and Spotify for all beauty and business girls.
Number 1 Amazon best selling book "Extraordinary Women"
Own chapter published in "Successful Women In Business"
Judge and speaker around the world.
Looks after 35 salons.
Regular columnist and writer for magazines, newspapers and press.
Won over 16 awards.
Director of Salon Franchise – Franchise consultancy for salon owners.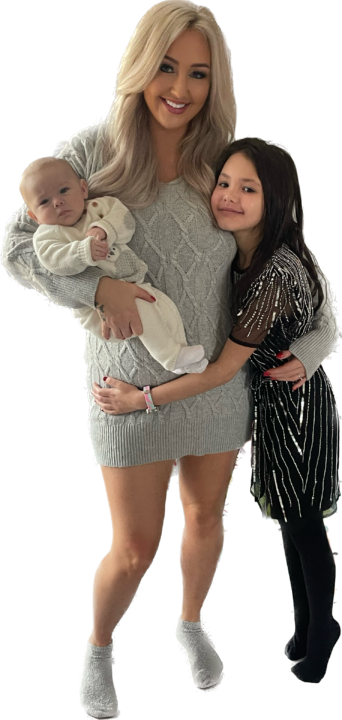 Katie Today
Katie is now concentrating on her ultimate goal, pushing other businesses to succeed and have freedom within their companies.
So it's safe to say Katie is one busy lady who is self made, has a passion for business. She was also a single mummy for six years to Lola-Rose. Before meeting her partner and becoming a family with her second baby. Katie adores that she can help other mummy's also run businesses.
Katie now wants to help entrepreneurs, like minded people and start up businesses to take their business to the next level.
Take a look around this site to see more!